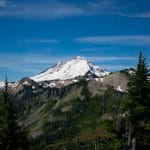 How in the world do you get yourself to take that first step on the PCT knowing that the last step is 2662 miles away? How does a normal person wrap their head around the idea of undertaking a hike that will last 4+ months and require you to hike 20+ miles almost every day? There are two answers. First, I am guessing that most "normal" people will never make the attempt. Second, you don't spend too much time thinking about it. What I mean is you don't really give much thought to the fact that you are taking the first step of a 2662 mile journey. That makes the goal too big and too far away. It is like trying to conceive the size of the universe. It is beyond our ability to grasp and likely would seem impossible if you tried to understand the magnitude of the undertaking.
The same was true when I used to compete in expedition-length adventure races. To think that you are about to race almost non-stop for up to a week, will overload your mind if you focus on that reality. It just seems impossible. Instead, when you are racing, you try to focus on the next race checkpoint. Most often the next one is only a few miles away. And then you think about the next, and the next, and then the next. In your mind, you break the race into digestible, and reasonable, chunks and you marvel at every small accomplishment. The same is true of the PCT.
Formally the Pacific Crest Trail is divided into 30 sections…18 in California, 7 in Oregon, and 5 in Washington. The average length of each is about 91 miles. Traveling at a reasonable speed, each section is only about 5 days of travel and within those 5 days, there may be multiple opportunities to get food, rest, and maybe some chocolate. That is something you can grasp and ever view as possible. And when you complete a section you will certainly get some good food, maybe even a motel room and shower, and that reward will hopefully get you ready to tackle the next section. You can reset your goals and move on.
Of course, this does not mean you can afford to completely ignore the length of the race and the many obstacles you might encounter. You have to be prepared for them by having the right equipment and being in good mental and physical shape to deal with them. It might mean that you spend some time planning your strategy over the next few weeks. Some hikers have what is called a "bounce box" Before they start, they mail a box "general delivery" to some point along the way. When they get there, they pick up the box and pull out what they need. They go to a store, buy new stuff, restock the box, and mail to another point further down the trail. This gets repeated over and over again. On the PCT it is not uncommon for thru-hikers to mail themselves a box of supplies that they won't see for a month or more. That does require some serious future planning.
For northbound hikers, Kennedy Meadows is a traditional place to send yourself a gearbox. It is 700 miles from the starting point on the US-Mexico border and most hikers arrive there in 40-50 days. By then, if not earlier, many have likely worn out their first pair of shoes. That box saves them from having to buy whatever might be available in a small town. And just as importantly, after 700 miles in the desert you are about to spend the next month or more in the Sierra Nevada mountains, a very different environment that requires different equipment and different clothes to succeed. Failure to think ahead and send yourself the right gear will at best cost you some time. At worst, it could put your entire trip at risk.
So, what I am saying is this…focus on the short-term goals without completely ignoring what it takes to accomplish the long-term goal. A necessary strategy for the PCT and not a bad strategy for life.
Racers like to say that adventure racing is the hardest thing you will ever do. I wonder if I am going to find something harder. I hope so. My PCT adventure begins at sunrise on April 19, 2022.