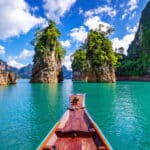 AI Prompt: Write a first-person story about a professional travel writer visiting Thailand for the first time.
As a professional travel writer, I had been fortunate enough to explore many beautiful destinations around the world. But, I had never made it to Southeast Asia, until now. With excitement, I boarded the plane to Thailand, eager to finally experience this incredible country for myself.
The moment I stepped off the plane, I was hit by a wave of heat and humidity. Despite the discomfort, I couldn't help but feel exhilarated. I knew that this was going to be a trip that would stay with me for a lifetime.
My first destination was Bangkok, the capital of Thailand. The vibrant city was a bustling hub of activity, with markets, street food, and incredible temples at every turn. I spent my first day exploring the famous Wat Phra Kaew and the Grand Palace, both of which were absolutely breathtaking.
After a few days in Bangkok, I headed north to Chiang Mai. There, I explored the ancient temples in the Old City, took a cooking class, and visited an elephant sanctuary. It was an unforgettable experience, and I left feeling incredibly grateful for the opportunity to learn about Thai culture firsthand.
Next, I traveled south to the island of Phuket, where I lounged on the beach, enjoyed fresh seafood, and visited the Big Buddha statue. One of the highlights of my trip was taking a boat tour to the nearby Phi Phi Islands, where I spent the day snorkeling and swimming in crystal-clear waters.
Throughout my trip, I was struck by the generosity and friendliness of the Thai people. Everywhere I went, I was met with smiles and warm greetings. It was clear that Thailand had a special place in the hearts of its people, and it was easy to see why.
As my trip came to an end, I reflected on the incredible experiences I had had in Thailand. From the bustling streets of Bangkok to the tranquil beaches of Phuket, this trip had truly shown me the richness and beauty of this amazing country. I knew that I would be back again someday, eager to explore even more of Thailand's incredible destinations.