Don't overlook these things when getting ready for a thru-hike of the PCT (mostly for less experienced hikers)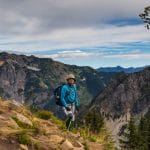 When you first start thinking about your first thru-hike of a very long trail such as the PCT, there are lots of things to consider. And even for the experienced hiker, it is easy to miss some things that might be very different compared to shorter hikes. While certainly not a complete list, here are a few things you really don't want to overlook…
If you use trail runners as your shoes, they will typically last about 400 miles. That means 6+ pairs for a thru-hike.
Even the big 4 gear (tent, sleeping bag, sleeping pad, and backpack) may not survive the entire trip. How will you replace them if need be?
Dealing with an uncomfortable sleeping system for 4-6 months significantly reduces the chances that you finish the PCT.
Food selection will be VERY limited at many resupply points and will not serve you well if you are vegan, veg, Kosher, or gluten-free.
There will be stretches of a week or more without the chance to resupply food or gear, without call service (more if you use Sprint), and without access to electricity to charge your electronics.
The gear you need for the desert (the first 700 miles) is going to be dramatically different than the gear you need for the Sierra Nevada Mountains (the next 400 miles) and that is very different than what you might need for the last 300 miles in Washington which might be cold and very wet.
At some point, you will almost certainly be hitchhiking in order to reach a nearby town to resupply.
In 2022, due to COVID and other events, some traditional resupply points might not be available.
Chemical water treatment is great, but when the water is heavily laden with particulate matter (e.g. mud, algae, etc.) and potentially very contiminated, you need to filter.
If your water filter freezes, it will be destroyed.
Parts of the trail WILL be closed either due to fire, snow, or other natural or manmade events.
Eating cold meals will allow you to reduce weight (no stove or fuel to carry). In the desert you can do this without sacrificing much in comfort or safety.
Some watch batteries only last about 6 months.
It is likely that your normal trail diet is very low in fiber and could cause serious consitpation when eaten over 4-6 months.
Bears are less common than mice, squirrels, and other small critters who will come looking for your food almost every night.
Many nights your tent is going to get wet, inside and out and could stay that way for days.
A bear cannister (required on some parts of the PCT) is heavy and big (the BV500 is about 12L external volume).
Quick-dissolving/biodegradable TP is available, but most toilet paper is not considered biodegradable.
The longer the hike the more important the choice of a base-layer becomes. Manmade fabrics STINK…literally.