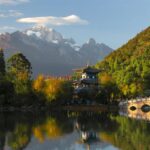 AI Prompt: Write an Emotional Story about Jade Dragon Snow Mountain
---
Here is a story I wrote about Jade Dragon Snow Mountain:
The Last Wish
Lena had always dreamed of seeing Jade Dragon Snow Mountain. She had read about it in books and seen pictures of it online, but she had never been able to visit it in person. She loved the idea of a mountain that was always covered in snow, even in summer, and that had a mysterious legend behind it.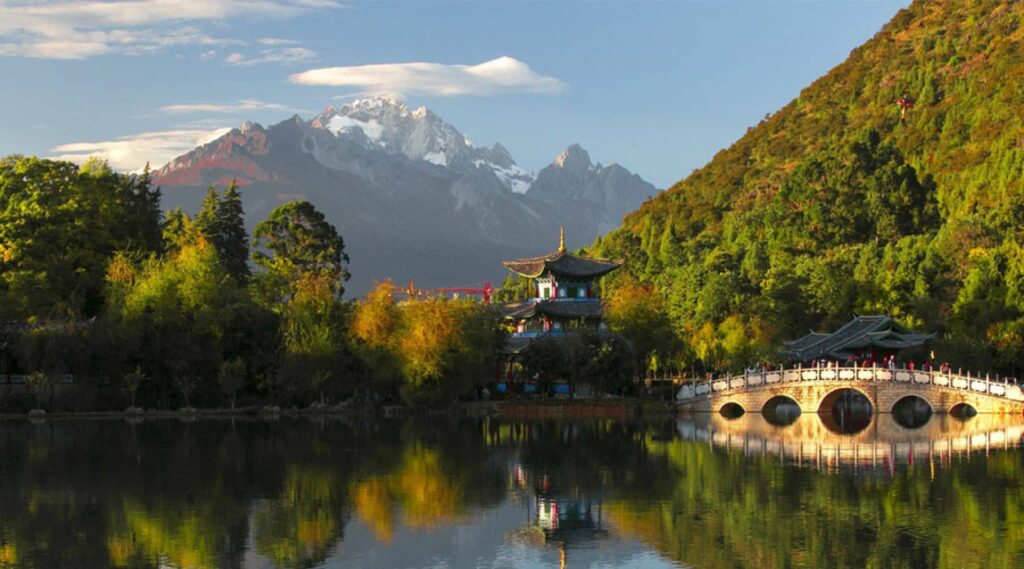 According to the legend, the mountain was once a giant dragon that protected the Naxi people from a hostile tribe. The dragon fought bravely but was wounded by an arrow. As he lay dying, he turned into a mountain to shield the Naxi from further attacks. His blood became the rivers and lakes, his scales became the forests and meadows, and his breath became the clouds and mist.
Lena wanted to see the dragon's spirit for herself and feel his power and grace. She wanted to hike up to the glacier park, where the highest peak was located, and touch the snow that never melted. She wanted to breathe in the fresh air and marvel at the beauty of nature.
But Lena knew she would never get to do that. She had been diagnosed with a terminal illness, and the doctors said she only had a few months left to live. She had no money to travel, and no one to accompany her. She felt hopeless and depressed and spent most of her days in bed.
One day, she received a letter from a charity organization that granted wishes to terminally ill children. They had heard about her story from her nurse, and they wanted to make her dream come true. They offered to pay for her flight, accommodation, and entrance fee to Jade Dragon Snow Mountain National Park. They also arranged for a local guide to take her around the scenic area.
Lena couldn't believe it. She was overjoyed and grateful. She packed her bags and boarded the plane with a smile on her face. She felt like she was living in a fairy tale.
She arrived in Lijiang, where she met her guide, Li. He was a young man who spoke fluent English and had a friendly personality. He told her he was also a Naxi, and that he loved Jade Dragon Snow Mountain as much as she did.
They took a bus to the park entrance, where they bought tickets for the cable car that would take them up to the glacier park. Lena was excited and nervous. She had never been so high up before.
The cable car glided over the green valleys and forests, giving them a stunning view of the mountain range. Lena could see the snow-capped peaks shining in the sun, like jewels on a crown. She felt a surge of emotion in her chest.
They reached the glacier park station, where they got off the cable car. They put on warm jackets and gloves, as the temperature was much lower than at the base. They followed a wooden path that led them to the viewpoint.
Lena gasped when she saw it. It was more beautiful than she had imagined. The snow was pure white and sparkling, like diamonds. The sky was clear blue and contrasted with the white mountain. The clouds were fluffy and soft, like cotton candy.
She felt tears in her eyes as she walked closer to the edge of the platform. She reached out her hand and touched the snow. It was cold and wet, but also soft and smooth. She smiled and looked up at the peak.
She felt something stir in her heart. It was like a warm glow that spread through her body. She felt a connection with the mountain as if it was alive and aware of her presence.
She heard a voice in her mind.
"Hello, child."
She blinked in surprise.
"Who are you?" she asked.
"I am Jade Dragon Snow Mountain."
She gasped again.
"You can talk?"
"Yes, I can talk to those who have pure hearts and sincere wishes."
She felt awe and wonder.
"What do you want from me?"
"Nothing. I just want to thank you for coming to see me."
"Thank me? Why?"
"Because you are one of the few who appreciate me for who I am, not for what I can offer."
"What do you mean?"
"Many people come here for different reasons. Some come for adventure, some for fame, some for money, some for power. But few come for love."
"Love?"
"Yes, love. Love for nature, love for beauty, love for life."
"I do love you," Lena said softly.
"I know you do," Jade Dragon Snow Mountain said gently.
They were silent for a moment.
"Can I ask you something?" Lena said.
"Of course."
"Can you grant me one wish?"
"What is your wish?"
Lena hesitated.
"I wish…
---
TTW Note: The story seems to end abruptly, but after writing the story Bing AI offered me three options for my next AI Prompt:
What did Lena wish for?
Tell me more about the Naxi people.
How long is Jade Dragon Snow Mountain?
Clearly, the AI is "aware" of the cliffhanger ending to the story. When I chose option #1, this is what I got…