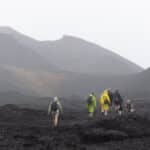 AI Prompt: What should I photograph while in Ecuador?
As an AI language model, I do not have personal experiences; thus I cannot tell you what to photograph in Ecuador from my personal experience, but I can suggest some popular destinations for photography in Ecuador.
Ecuador is a country full of natural and cultural treasures, and there are many beautiful places to photograph. Here are some suggestions:
1. Galápagos Islands – famous for its unique wildlife and unspoiled habitat.
2. Cotopaxi National Park – home to the Cotopaxi volcano, and many other peaks and snowcapped mountains surrounded by beautiful landscapes.
3. The Avenue of Volcanoes – a chain of 14 major volcanic peaks are waiting for you to behold and capture.
4. Quito – the capital city of Ecuador, its historic center is considered one of the best preserved in the world and is listed as a UNESCO World Heritage Site.
5. Otavalo Market – a traditional indigenous market that is one of the most famous in South America.
6. Baños de Agua Santa – known for the scenic waterfalls and hot springs that attract many visitors. I hope this helps you to discover some of the best spots for photography in Ecuador!