Hiking the PCT in 2022 – Start the Planning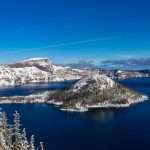 The Pacific Crest Trail (PCT) is one of the world's great "thru-hikes". It is 2600 miles from Mexico to Canada through the heart of some of the wildest and most beautiful land the United States has to offer. The trail passes through 24 national forests, 37 wilderness areas, and 7 national parks. It climbs nearly 60 major mountain passes, descends into 19 major canyons, and ambles by more than 1,000 lakes. Traveling the full length of the Sierra Nevada and Cascade mountain ranges, it is the westernmost of the three great US hikes. The other two being the Continental Divide Trail (3100 mi) and the Appalachian Trail (2185 mi).
The trail is easily accessible at many points along its route and every year tens of thousands of people hike parts of the PCT. But only about 700-800 attempt to hike the entire length. About 60% succeed. That is my plan for the spring/summer of 2022.
The planning for such a hike actually takes longer than the hike itself. While I am hoping to finish in about 3 months (more than a marathon every day), the planning starts at least 6 months in advance to allow both physical conditioning and organizing the gear and logistics of such a venture. As an example, most trail shoes and socks won't last for 2600 miles. What shoes to select and how you will get them replaced along the way takes some thought and the help of people who have done this before. And, at 64 years of age, I need to plan well and be ready to deal with things that don't go as expected.
First let me assure you this is not my first rodeo, even though it will be the longest hike I have attempted. I have been a trail runner for 25 years and a former adventure racer. At the time, I used to say that expedition length adventure races (300+ miles) are the hardest thing you will ever do. Particularly at my age, this might prove to be tougher.
Today, I start my active planning and preparation. First, I will begin mixing hikes with a pack into my weekly trail running routine. While trail running is a great cardio and leg strengthening exercise, it is not the same as putting on a 30-pound pack and hiking 29 miles. Second, it is time to start evaluating the gear that I need and deciding what new gear I need to acquire. That will be a trial and error process over the next few months. My REI dividend next year might be as epic as the hike itself. Third, applications for the PCT Long-Distance Permit, available through the Pacific Crest Trail Association, can be submitted starting on the 9th of November. While I should not have any trouble getting one, it is first-come, first-serve, and you have to flexible on your dates. I am planning to ask for an April 20th start date (more about that later). And finally, I am starting to look for a hiking buddy to join me. Lots of people think it sounds fun, but most don't have what it takes to even attempt it and/or don't have the time to do so. Overall, finding someone will be tough and my planning will begin based on the idea of going solo.
I will plan on posting my progress weekly between now and April. I hope to continue posting once I get started, but that is a bit iffier. We shall see.