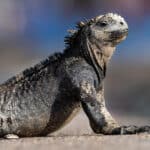 The Galapagos Islands, with their incredibly abundant and accessible wildlife, should be on every traveler's bucket list. As there are literally hundreds of blogs, videos, and websites dedicated to convincing you of this, I won't duplicate their efforts. I want to focus on helping you get the most out of your trip while minimizing the cost.
For those of you wanting to see the Galapagos Islands on a true backpacker budget, I am going to disappoint you. For a number of reasons that I will explain, there is no dirt-cheap way to do this. You can keep costs down, but nobody can really describe a trip to the Galapagos as cheap.
Two Ways to See the Islands
There are two general ways of seeing the Galapagos. First, is a cruise. Small cruise boats (20-100 passengers) offer a great experience, but at prices around $600-$1000/day. The shortest cruises are usually 3 days, with longer cruises lasting up to 10-12 days. There are 3 huge advantages to these cruises. One, as you might expect based on the price, they are quite luxurious. Two, if you are a photographer, only cruises are able to get you on some of the uninhabited islands during the golden hours. And three, there are certain islands that can only be visited while on a cruise. The second way to see the Galapagos is land-based and involves staying in a hotel or hostel (often spelled hostal) and then taking day trips into the Park. Some day trips are entirely land-based, but many require a 1+ hour boat ride to reach the place where the tour actually starts. The big downside to day tours is they are limited to locations close to the towns. Darwin and Wolf islands for example are located at the northern limits of the Park and are only accessible via a cruise boat.
My recommendations in a nutshell
If you are looking to keep costs down, stick with the land-based tours. Fly into and out of the airport on Baltra Island (GPS) and spend most (if not all) of your time on the island of Santa Cruz. Get a motel in the town of Puerto Ayora. There are two nice beaches that are within walking distance of town: Tortuga Bay Beach and Playa de la Estacion. Visit El Chato Ranch – Giant Tortoise Reserve and the Charles Darwin Research Station. Take day trips to North Seymour Island (walking and snorkeling) and Isla Santa Fe. If you are a diver, you want to dive on Daphne Minor or North Seymour.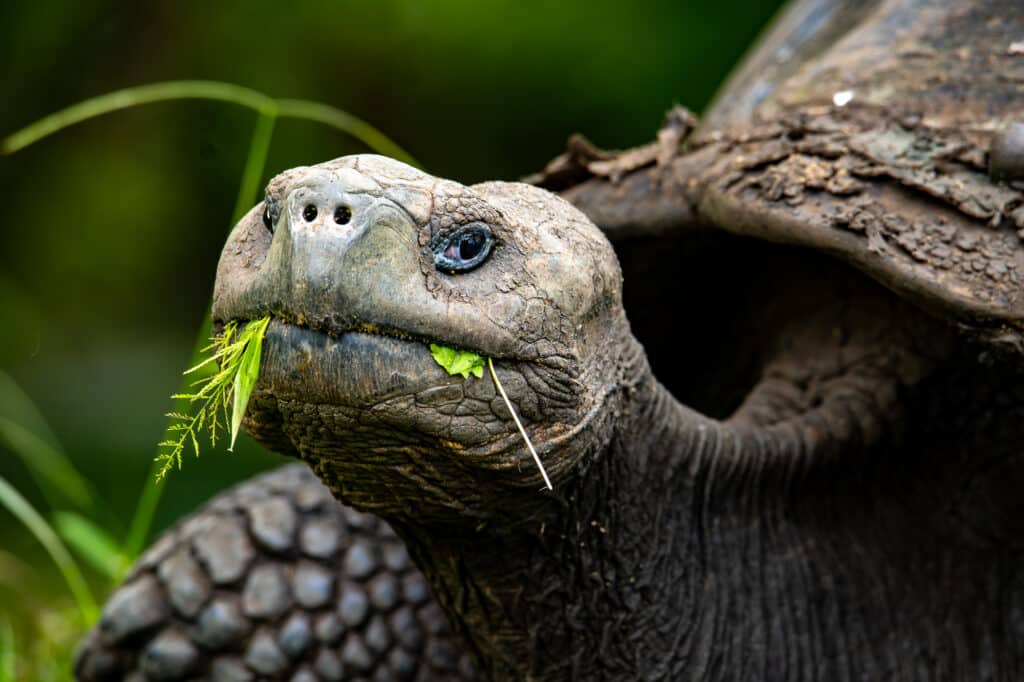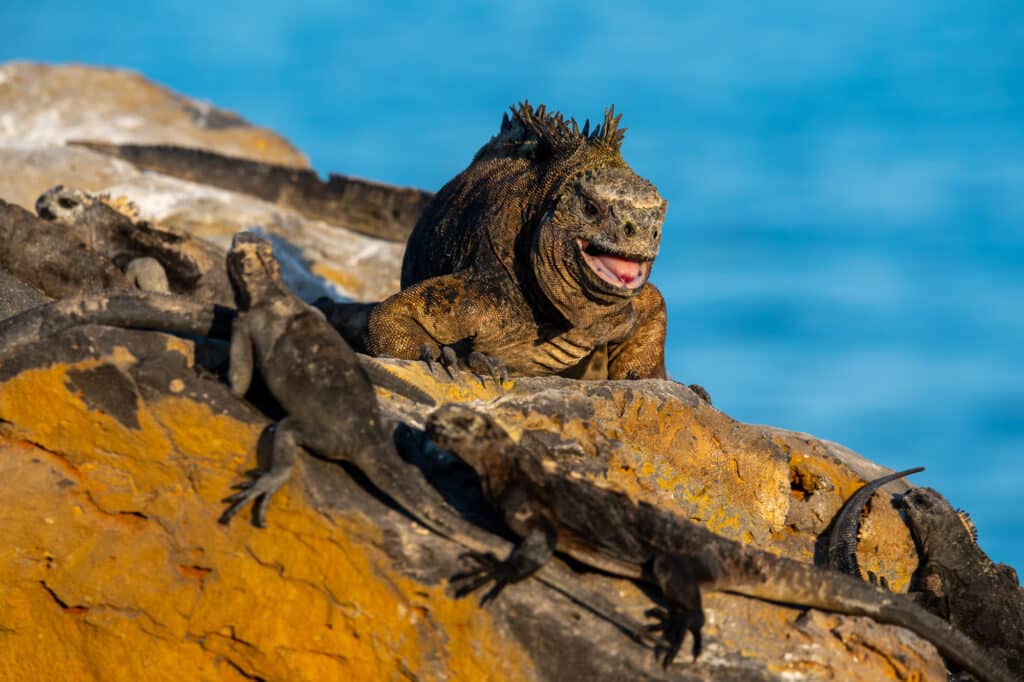 Consider a short (2-3 days) visit to Isla Isabella. The town of Puerto Villamil is much smaller than Puerto Ayora and the pace is beautifully slow. The best restaurants are on the beach. The town is small enough you won't have any trouble finding your way around. The major attraction here is a day trip to the Sierra Negra (volcano). Take day trips (walking and snorkeling) to Los Tuneles and/or Tintoreras where "sleeping" white tip sharks are abundant..
I found very little reason to visit San Cristobal unless you are a diver and really want to dive Kicker Rock. The town is nice, and the food and lodging are excellent, but if you are looking to get the total Galapagos experience while minimizing your cost, I think you can skip San Cristobal.
Booking day tours on any island can be done through your motel/hostel or by walking into any of the shops you will see around town. Trust me, tours are the lifeblood of the tourist trade in the Islands and they make it very easy to book them.
What makes the Galapagos so expensive
Due to the remoteness, everything is more expensive in the Islands than on mainland Ecuador. Leaving out the obvious remoteness of the island and the cost of flying there, about 97% of the land mass of the Galapagos Islands falls within the Galapagos National Park and the park actively controls access. First, you will pay a $100 entrance fee when you land at the airport. Even if you do nothing but go to your hotel and sit there, you must pay this fee. Second, the only way to visit the various parts of the Galapagos National Park is on an officially approved tour accompanied by a Park licensed "Naturalista". Tour companies must pay substantial fees for the permits to run these tours. Therefore, a single day-tour to the closest uninhabited islands, lasting 7-8 hours from the time you are picked up at your hotel until you return, will cost somewhere in the neighborhood of $200.

Air Transportation
The first step is to get to Quito or Guayaquil Ecuador. I won't give you specific flight recommendations as there are numerous airlines that service these cities from the US and other Latin American locations. I do suggest you start tracking the prices well in advance of your trip. Fares into Ecuador fluctuate wildly from day to day. I have seen American Airlines roundtrip fares from Seattle to Guayaquil go from $1400 (1st class) to $1900 (coach) in less than a week…and then switch back again.
The only way to get to the Islands is to take a commercial flight from either Quito or Guayaquil Ecuador. There are three airlines (LATAM, Avianca, and TAME) that service two airports on the Islands with 3-hour flights from Quito or 2-hour flights from Guayaquil. There is no usually no significant difference in their level of service or the cost. It is occasionally cheaper to fly one airline to Miami and then take LATAM or Avianca from there to the Galapagos rather than booking a single ticket all the way through using airline partners.
The two airports in the Galapagos are Galápagos Ecologic Airport (GPS), often called Seymour Airport on Baltra Island, and Airport Isla San Cristobal (SCY). Both airports are very small and when I recently flew out of SCY I went from my motel room to the gate in less than 15 minutes.
Ground Transportation
To get from the airport on Baltra to the town of Puerto Ayora, you take a short bus ride (5 minutes), then a short ferry ride (5 minutes), and finally a bus or taxi ride into town (40 minutes). The total cost will be about $20 for the bus option and about $50 if you take a taxi for the final part of the trip.
All day-tours will pick you up at your motel and it might be in a taxi or a 15+ passenger shuttle bus. Taxis are the most common vehicles on the road and in the Islands are almost always white pick-up trucks. Taxis are generally very cheap in Ecuador, but a bit more expensive on the Islands. Rides around town will run about $2. On Isabella, the ride from the dock to downtown is $3.
Inter-island Transportation
While there are inter-island flights between Santa Cruz, Isabella, and San Cristobal, most people travel by boat. The trip between islands takes about 2 hours and, to be honest, is not the most comfortable way to travel. There is a single major town on each of the three islands and a single dock/port in each town so you won't have any trouble finding the departure location. There will be a steady stream of people headed to the dock just before departure time. Boats typically leave around 7 AM and 3 PM, 7 days a week. Tickets can be purchased at a multitude of shops in towns. Just look for the signs. Most hotels can also book a reservation at no additional cost. Expect to pay about $25.
Lodging
In Puerto Ayora, you will find a huge selection of places to stay. Everything from $15 hostels to $300 motels. Even though the last couple of months have been reported as the busiest EVER, you can easily just show up and find a place to stay. Booking online in advance is easy enough, but after you make the reservation I suggest you call a few days later to confirm. The first time I booked online through Expedia I received the typical confirmation email, but almost 2 weeks later I heard from the motel telling me they had no room for me.
On Santa Cruz, check the location of your motel relative to the Puerto Ayora Jetty and Charles Darwin Avenue. You really want to be within walking distance, and the closer the better. There is a wide assortment of places within 2-4 blocks. Many of the smaller hostels are perfectly located downtown, but are not available through online booking sites such as Expedia and don't even show up on Google Maps. A 15-minute walk around town will reveal all.
If you visit Isla Isabella, the situation is similar, but the town of Puerto Villamil is much small and the pace is laid back. The dock is a short taxi ride away from a very small downtown area with far fewer choices of lodging.
Food
Do not drink the tap water in the Galapagos.
Places to eat in Puerto Ayora are everywhere and most of them are on or within a block of Charles Darwin Avenue. You can get meals from $5 to $50 depending on your tastes. For those of you with a caffeine addiction, here are a number of coffee shops too. I recommend 1835 Coffee Lab for the coffee and food. The less expensive food is going to be found in smaller restaurants and away from Charles Darwin Avenue. For a European/American type of eating experience, there are many good restaurants on the Avenue, but I recommend The Rock or Lemon & Coffee.
In Puerto Villamil (on Isabella), head for the beach for the best food, drinks, and amazing sunsets.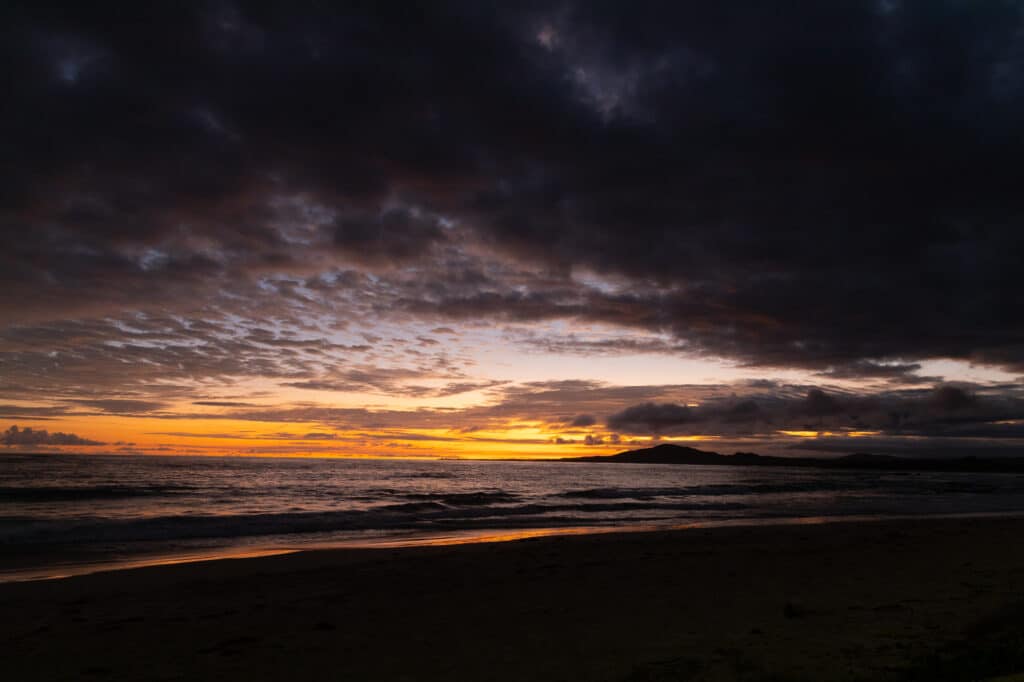 ATMs
There are many ATMs in Puerto Ayora and San Cristobal. There is only 1 in Puerto Villamil on Isla Isabella, but it is a very small town so one is all you need. All charge between $2 and $4 for a withdrawal. Most ATMs will offer you the option of withdrawing up to $300, but may decline withdrawals over $100. This is due to the limited supply of cash they might have on hand.
Seeing the Wildlife
The animals are undoubtedly the biggest attraction on the Islands and those animals are everywhere. In Puerto Ayora, you will have to walk around the sea lions and marine iguanas as you walk down Charles Darwin Avenue. Don't miss the open-air fish market/fishing piers. They are right along the Avenue in the middle of town. The sea lions, frigate birds, and pelicans gather in large numbers when the boats bring in the catch. Check back a number of times throughout the day to find the busiest (and most entertaining) times.
The best opportunities to see birds will be on North Seymour Island. Frigate birds and Blue Footed Boobies nest there from January to April. The albatross are only found on Isla Espanola (not reachable from Santa Cruz) between April and December.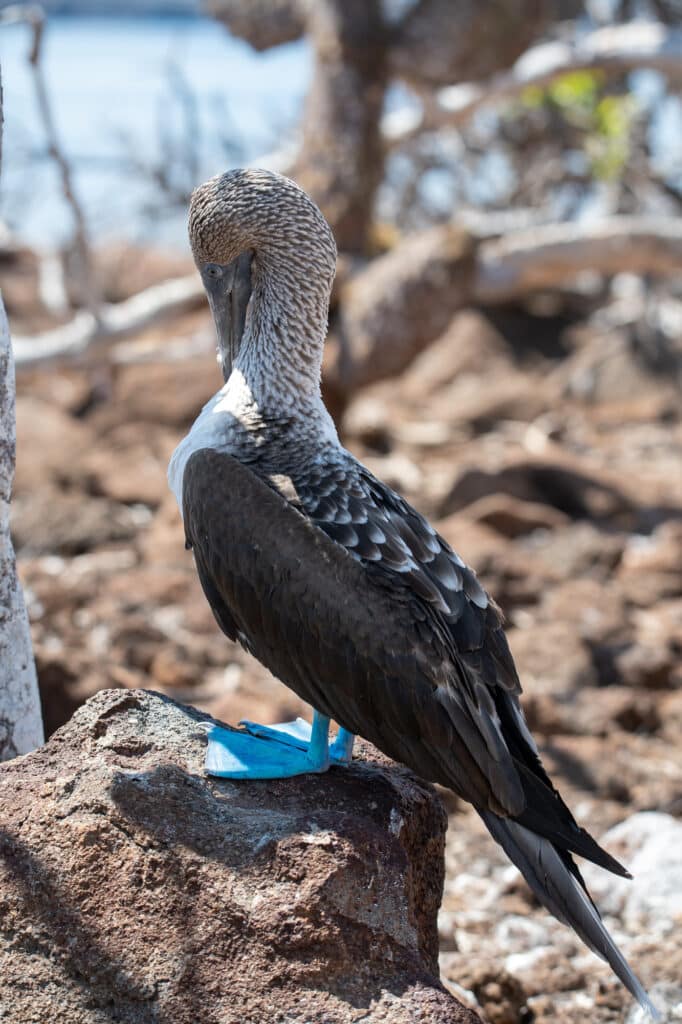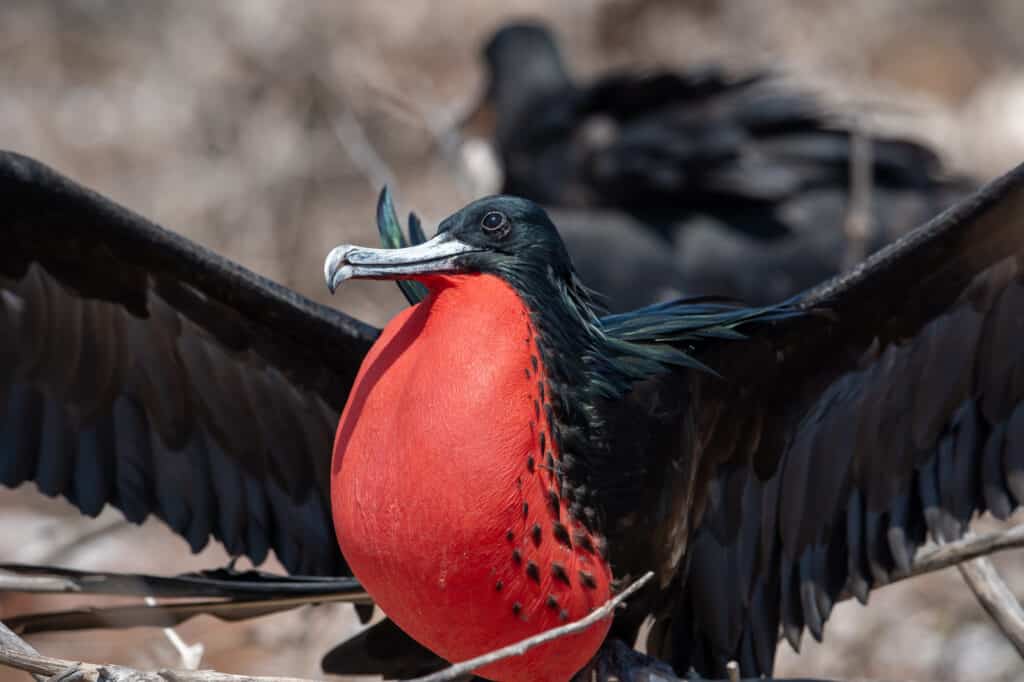 Black-tipped reef sharks can be seen from the dock in Puerto Ayora at any time of the day or night.
There are two main types of iguanas in the Galapagos: land and marine. Marine iguanas are everywhere. When you have some free time, just find some rocks on the water and you will see them. In Puerto Ayora, find the sign for the Police Station along Charles Darwin Avenue and head toward the water. There are often lots of iguanas there. Another good place in Puerto Ayora is between the fishing piers and Hotel Solymar Galapagos. Land iguanas are less common around town and your best chance to see them is on North Seymour Island.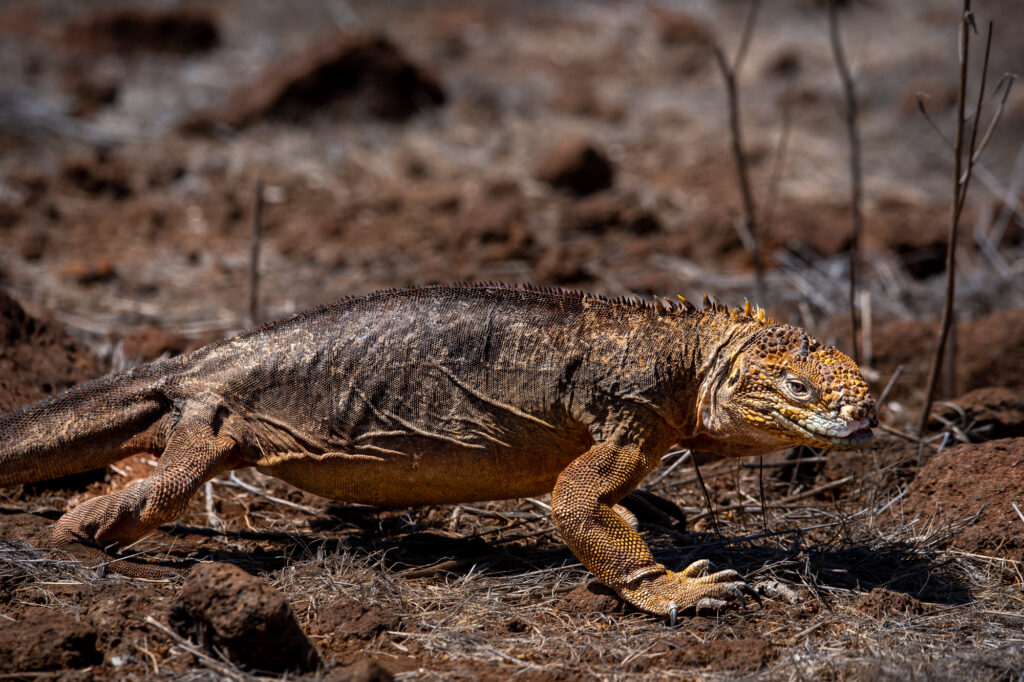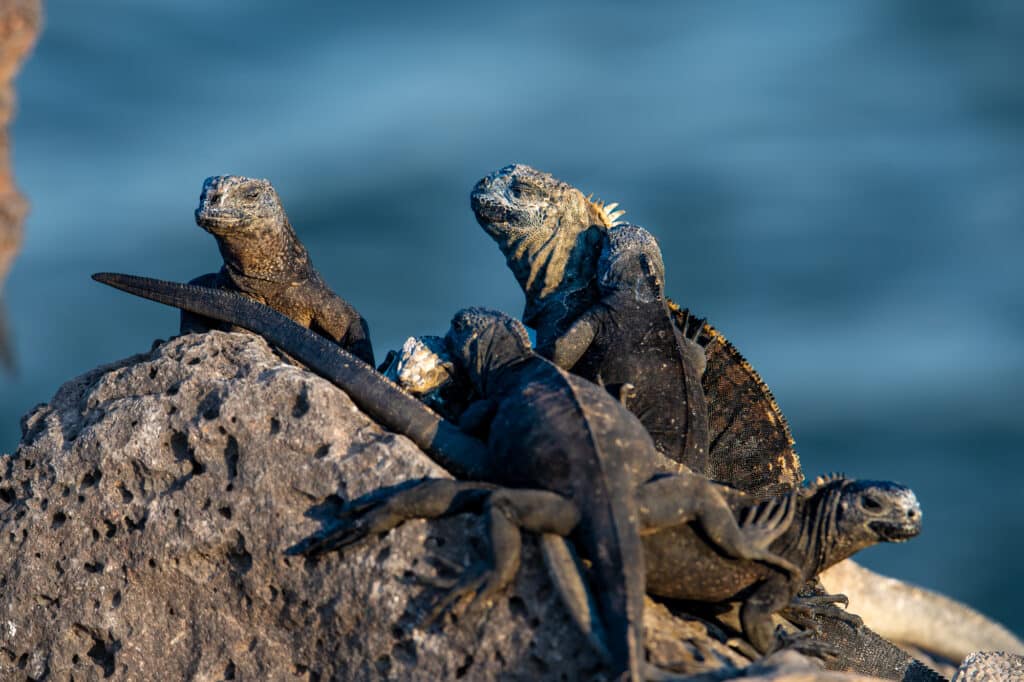 You will see white-tipped reef sharks "sleeping" on the bottom if you take any diving or snorkeling tour. Tintoreras (on Isabella Island) is known for the large number of sharks that can be seen there.
Turtles mate between January and April and will be seen on most boat rides anywhere. They are often found in the harbors as well. If you are on a boat as part of a day tour you will most likely see one.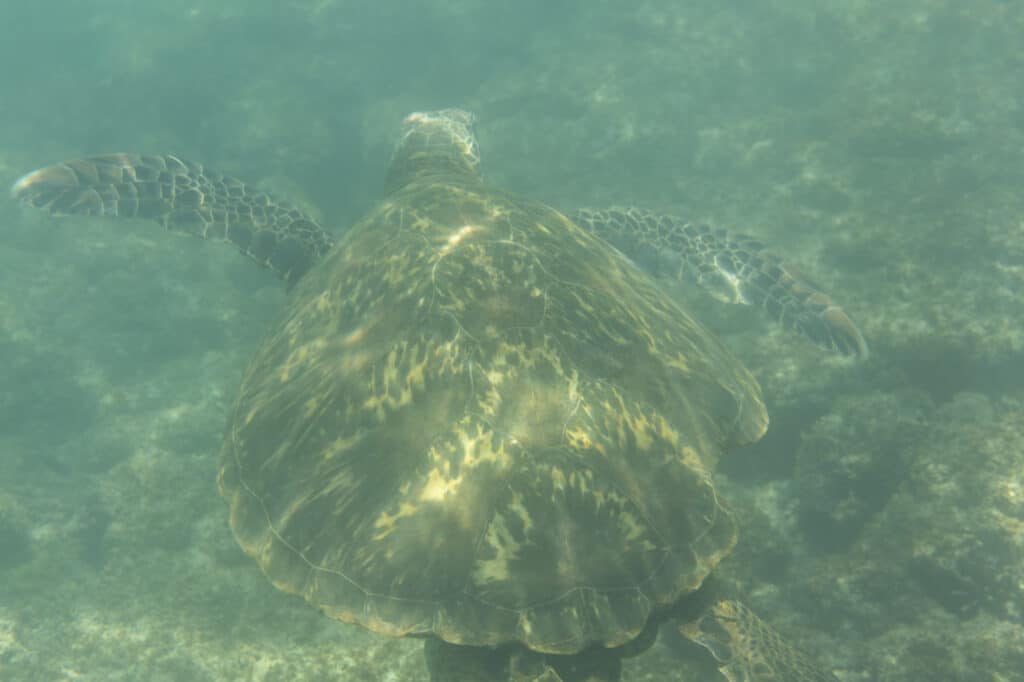 Rays of various types (manta, eagle, spotted) are everywhere, but not always easy to see. If you are taking a day tour that involves a boat ride, see if your boat has room for passengers on the bridge (where the captain sits). The best views are up there.
Penguins can be found in the Galapagos, but are seasonal and not that common. Ask any of the tour or dive shops where they can be found when you are there. During my last trip (January 2023), I saw 3 penguins in 3 weeks.
Diving in the Galapagos
I have dove all over the world and I would rate the overall quality of diving in the Islands as only fair. You will certainly see some things that can only be found in the Galapagos, but visibility is not the best and the abundance of brightly colored tropical fish is considerably less than in other places I have been (e.g. Caymans, Hawaii, Guam, Red Sea). There are multiple dive shops on Santa Cruz and most seem to be decent. I recommend Albatross Dive Resort Galapagos. It is not really a resort, but just a good dive shop. On Isabella, there is only 1 dive shop and it seems to get mixed reviews. Their shop is very seldom open and even contacting them by phone, email, or WhatsApp is often unsuccessful.
There are many, many more things to do and experience in the Galapagos, but I have tried to narrow them down to the things that truly epitomize the Islands. Do your research, or when you arrive walk into one of the many shops offering tours and talk to them about what you want to see and do.
I have marked many of the places mentioned in this article on Google maps. You can view it HERE.
You can easily visit the Galapagos with very little advance planning. Just show up and book as you go. However, if you are looking for a package deal prepared by a travel agent with extensive experience with travel in Ecuador, I wholeheartedly recommend Rebecca Adventure Travel.
Enjoy!